We recognize that not everyone knows exactly what a church is. We realize that you may have spent most of your life attending, or that maybe you've never stepped foot into a space of faith. BBC is, at its core, a community of people living life together.

You're welcome and invited just as you are. There's no dress code, so dress how are you are comfortable.

Since 1887, we have been a faith community that tries our best to be a warm, inviting, loving, and grace-filled group that knows we're not perfect and have no desire to pretend otherwise. While our community carries many differences, we are united in our love for Christ and our desire to love those around us.

We are composed of people of all age groups (literally less than one year to over 100 years) and we do our best to include everyone in the visioning for what the future looks like.We love much, we smile a lot, we walk through tough times together, we give space for tough questions, we don't always agree, BUT we do find ways to continue as the community that we are called to be.

How do we gather? Scroll down for more!
8:45am Contemporary Worship Service
Our contemporary service takes place each Sunday in the Fellowship Hall, where we are led in worship by our praise team.

Join us at 8:45 AM on Sundays if you're looking for a more modern style of worship with videos, contemporary music, and a more laid-back atmosphere. We gather in the Fellowship Hall for this service.
9:45am Community Breakfast
We gather after the Contemporary Worship Service to eat a light breakfast and catch-up. Attendees of either service are invited to join us!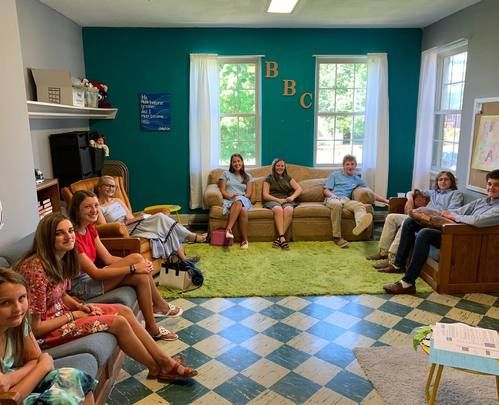 10:00am Sunday Bible Study Groups
Studying and understanding Scripture is an important part of our faith journey. One way we do this is through gathering together on Sunday mornings to discuss where Scripture meets our lives today. There is a small group for everyone!
There's something sacred about worshipping in the same place and in a similar manner as those who've gone before us. At BBC, that's part of what makes our 11:00 Traditional Service so special.

Join us at 11:00 AM on Sundays if you're looking for a more 'traditional' style of worship with an organ, choir, robes, hymns, and more elements that have been a part of our worship for over a century. We gather in our 1920's era Sanctuary for this service.
Our Nursery is open and available for children ages infants-PreK. Our Nursery Coordinator and volunteers are ready to give your children a safe and happy place to be while you worship!

Kids ages Kindergarten-5th Grade are invited to join their parents in worship for the first half of the service. After the children's sermon they are invited to head to the Children's Ministry Center for a special time of worship where they'll have a lesson, sing songs, make crafts, and more.

Kids who want to stay with their parents for the entirety of either service are welcome to stay! Kid's bulletins are available at the entrance of each service!

For our parents of infants, there is also a nursing room for parent's of infants located across from our Nursery. It features a live feed of the services, rocking chairs, a crib, and a changing table. Additional changing tables are available throughout the building.

For parents of infants who are not ready to drop their babies off at the Nursery, we have rocking chairs located in both services for you to worship with them with you. If they cry or are loud, that does not bother us! We're glad that they're there with you!
Every Sunday night we gather for a 'family' meal where all ages gather outside for a delicious dinner and time to catch up together through our fall parking lot picnics. All you have to bring is a chair, blanket, or tailgate for sitting. Dinner will be provided, but you can always sign-up to help with a week by contacting debbie@bensonbaptist.org.
6:00pm - Community Groups
Children, youth, college-aged, young adults, and older adults are invited to join in with small group discussions and fun activities every Sunday night.
We'd love to hear from you. Fill out the form below to get started.