Join us on Sunday nights for dinner and community groups!

Note:
Community Groups will NOT gather October 24 or 31.
Every Sunday night we gather for a 'family' meal where all ages gather outside for a delicious dinner and time to catch up together through our fall parking lot picnics. All you have to bring is a chair, blanket, or tailgate for sitting. Dinner will be provided, but you can always sign-up to help with a week by contacting debbie@bensonbaptist.org.
6:00pm - Community Groups
Children, youth, college-aged, young adults, and older adults are invited to join in with small group discussions and fun activities every Sunday night. Scroll down for the current Community Groups.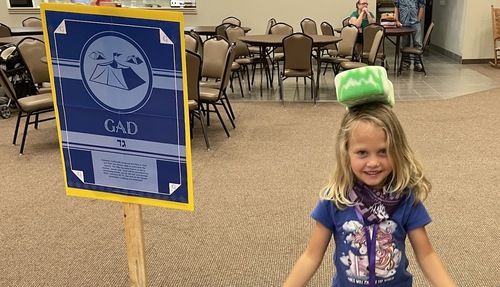 Our Nursery is available and staffed on Sunday nights beginning at 5:45pm.

Children ages K-6th grade are invited to Grow! through fun, games, crafts, and lessons tailored to them!
Our Youth Group gathers on Sunday nights for games, discussion, and community. Open to grades 7th-12th.

6th graders move up to youth group during their 6th grade year.
Searching for Sunday
by: Rachel Held Evans
Led by:
Taylor Long & Heather Powers
____________________
For many people who have largely said, "count me out," church represents a complicated relationship of both longing and apathy. There's a history there –– a past full of confusion and hurt, but a past that often is impossible to abandon. In Searching for Sunday, Rachel Held Evans exposes her own thorny relationship with the church, articulating the concerns, frustrations, and hopes of many of her peers.
Through a series of stories told around the church's sacraments –– baptism, confession, and communion, among others –– Evans offers the beginnings of a road map back to church and the resurrection that awaits when we are willing to give up and begin again.
This community group discussion is perfect for those asking tough questions about faith, exploring where God is possibly calling the church moving forward, and for those who want to understand why so many are walking away from the church.
____________________
Sign-up Here
Jump in at any time –– even if you've missed a week or two!
The Good and Beautiful God

by: James Bryan Smith
Led by:
Lawrence Powers
____________________
"God wants me to try harder…"
"God blesses me when I'm good and punishes me when I'm bad…"
"God is angry with me…"
We all have ideas we tell ourselves about God and how God works in our lives. Some are true –– but many are false. James Bryan Smith believes those thoughts determine not only who we are, but how we live.
In this discussion, you'll be invited to put your ideas to the test to see if they match up with what Jesus himself reveals about God. Once you've discovered the truth in Scripture, you can engage in a process of spiritual formation that includes specific activities aimed at making these new narratives real in your body and soul as well as your mind.
____________________
Sign-up Here
Jump in at any time –– even if you've missed a week or two!