Whoever you are, wherever you are from, you are welcome here.
Our youth group welcomes teenagers in grades 6th - 12th .

We realize that the teenage years are not always easy. We know that community is a critical part of growing. Our youth group exists to be a place where big questions about life and faith can be asked, life-long friendships can be formed, and where a teenager can be who God has created them to be.
Sunday Morning

Contemporary Worship @ 8:45am
Breakfast @ 9:45am
Youth Sunday Morning Small Group @ 10am
Traditional Worship @ 11am

Sunday Evening

Dinner @ 5pm
Games & Bible Study @ 6pm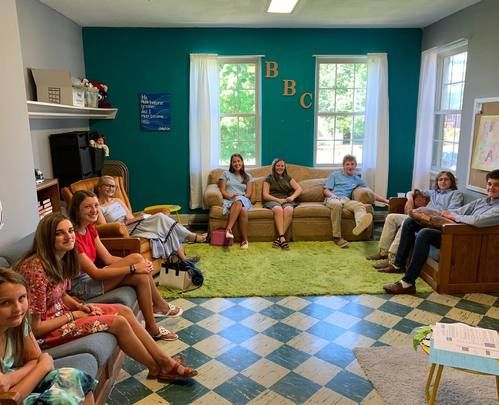 Children & Youth Safety Policy
MLK Day of Service - 1/17

Let's use this special day to serve others in our community!

Winter Retreat - 2/4 - 2/5

Our Winter Retreat will be at Benson Baptist Church on the first weekend in February. Plan on fun, fellowship, and an opportunity to grow in our faith as we explore the theme of "Foundations."

Unidiversity Youth Camp - 6/27 - 7/1

Join us for youth camp at Maryville College, TN for a week of fun, fellowship, and growing closer with Christ. Contact will@bensonbaptist.org for more information and to sign up!
Community Service


Serving those around us is critical to our faith. We do this through service events throughout the year.

Activities

Sports, dance, theater –– whatever it is, we love to show up and support one another at events!

Youth Sunday | Spring

We create and lead two entire services (8:45 & 11) once a year and participate during regular worship throughout the year.

Unidiversity Youth Camp | Summer

Camp is easily one of our most fun events. We spend a week laughing, singing, playing, and learning as we grow in Christ together.

Fall Retreat | Fall

A weekend at Fort Caswell growing closer, enjoying the beach, and learning more about God as we begin our school year together.
This is an inclusive youth ministry in every sense. If cost is preventing your youth from attending trips and events, please don't hesitate to reach out to will@bensonbaptist.org. We will find a way to ensure your youth is able to participate to the fullest extent.